How I bent the set in the channel for the chassis can be seen on the Foden Chassis link

Brake shaft arms are fabricated by silver soldering. See link

Progress so far on the 3" scale Foden Steam Wagon.
Follow the crank shaft link to see how the crank is roughed out of 2" bar

5" Gauge Sweetpea Loco waiting painting. See link for more photos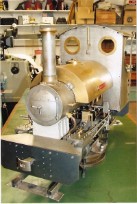 I am very lucky to have a friend with a gear hobbing machine which was used to cut the 14DP gears for the Foden Wagon. See gears and gear hobbing link.